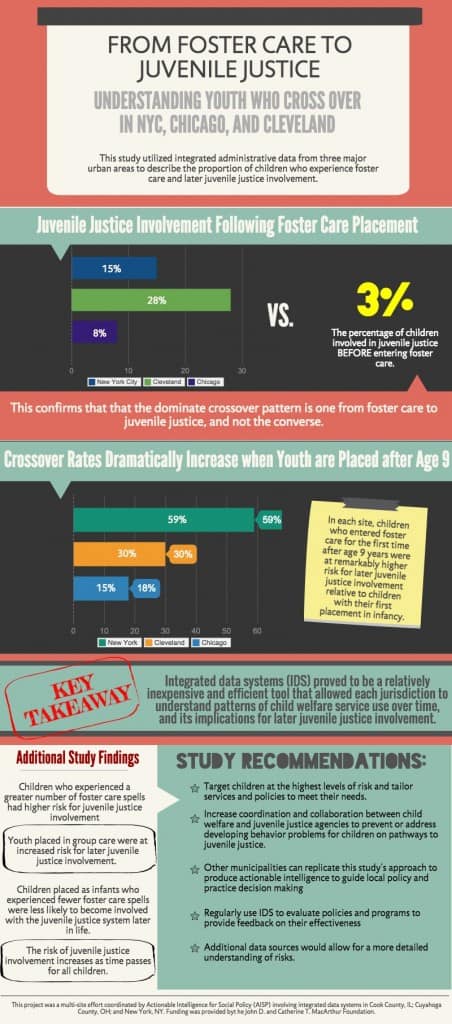 Sites Involved: Case Western Reserve University, Chapin Hall at the University of Chicago, New York City
Administrative Data Sources: Child Welfare Agency Records and Juvenile Justice Records
External Funding: The John D. and Catherine T. MacArthur Foundation
Date of Publication: June 2016


Project Description

Children who experience child welfare involvement are at greater risk for later becoming involved with the juvenile justice system, and children who are served by both systems tend to require higher levels of other services at great cost to public service providers. This study examines multiple birth cohorts of children in three metropolitan areas to understand the patterns and factors that predict crossover from child welfare to juvenile justice services.
This project focuses on "dually involved" or "crossover" youth –those youth involved in both the child welfare and juvenile justice systems. Although few studies exist, the available information suggests that these youth face greater challenges than those in either juvenile justice or child welfare systems alone. Practitioners and policymakers assert that system integration and interagency collaboration is needed when serving dually involved youth. This allows agencies to achieve better outcomes for youth and families while not working at cross-purposes. In particular, children involved with child welfare services have been identified as an important at-risk group for delinquency prevention efforts.
This project aims to inform policy and practice while demonstrating the utility of administrative data for addressing research questions. From a policy perspective, there are very high human and economic costs associated with children and youth entering either of these systems, in addition to compounded costs for the dually involved. Identifying practices that can help foster children avoid restrictive and expensive institutional care would make an importance contribution. Though dually involved youth are becoming a focus of research and policy, there is still much to be learned about this population. This includes the need for data on the scope of the population – for example how many youth are dually involved either concurrently or at some point in time, what is the historical involvement of youth in either system, what are the characteristics of dually involved youth, and do these differ from those youth involved in only one system? This multi-site analysis of administrative data will contribute to the growing body of knowledge on and policy and practice implications for dually involved youth.